With all this time indoors at the moment – working from home, schooling from home and generally 'doing-life' at home, many of us are scratching our heads about just what to do to keep the littles entertained.
Now is an opportunity in disguise, to break out of your usual activities (and screen-time!) and try some new fun activities.
We have listed some ideas that are sure to be a hit with the kids (and Mum and Dad will get a giggle out of some of these too!)
1. Don your favourite dress-ups (hats and wigs mandatory!), put on some favourite tunes, and have a lounge-room dance party
2. Get your bake on! Pick out some yummy recipes and get the kids involved to whip up some tasty treats everyone can enjoy- like these ones from BBC Good Food
3. Teach your kids an old-school game, such as elastics, hand-ball or Shops!
4. Camp in the backyard, eat s'mores and drink hot chocolate, and pick out constellations. If you don't have a backyard, camp out in a fort in the loungeroom
5. Have a craft-ernoon!  Here are some great ideas to inspire you from Good Housekeeping
6. Dress up and have a lounge-room fashion parade, where the kids can wear their craziest outfits!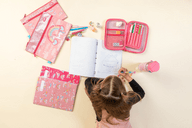 7. Get imaginative with a story writing afternoon- these journals are a good place to start to get writing creatively
8. Get your green-thumb on! Start an herb garden with the kids, or plant some flowers and create a fairy garden
9. Have a themed dinner party with cuisine from a faraway country- you can even dress-up, play music from that country and learn some words in a new language. Bellisimo!
10. Send letters to pen-pals! Get started with these pretty writing kits to connect with BFFs near and far
And an extra one just for fun!
Snuggle up on the couch and have a movie night with freshly popped popcorn. Bliss.
Now off to find our PJs…