There's a book cover to fit every one of your child's school books.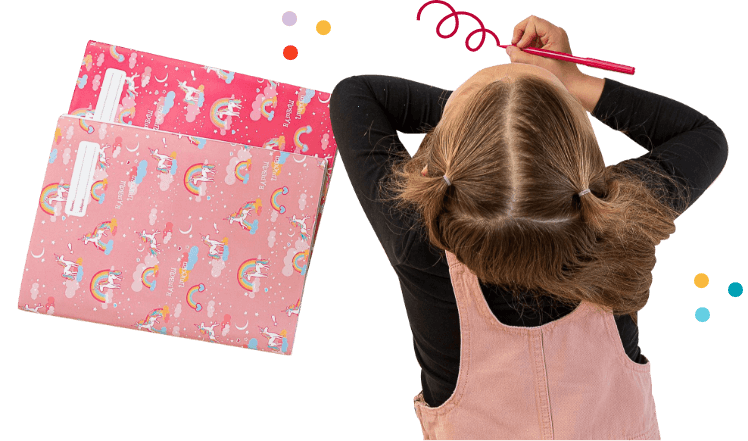 The Back-to-School saviour for every parent.
We promise. Spencil book covers are for the Mums and Dads who don't want to spend 800 hours wrestling with sticky book covering... at 2am... on the night before school starts. Those days are over.
Spencil introduced gorgeously uniquely designed, slip-on, reusable book covers to parents everywhere over 10 years ago. And there was a collective sigh of relief.
After all, we are on team MaDs (Mums and Dads).
You'll be covering books in 10 seconds or less, which makes the process less of a dreaded chore and more of a JOYOUS DREAM.
They come in so many gorgeous designs, for every kind of kid. They'll be more than proud to get their books out!
Uncover what size you need
*A4 exercise books need A4 book covers, not Exercise book covers!
* Please note there are two scrapbook sizes and we have 2 different scrapbook covers to accommodate the different sizing. If your scrapbooks are sized 335mm x 240mm or smaller, then the Standard Scrapbook Cover is for you. If your scrapbooks are just that little bit larger and are 335mm x 245mm then the Jumbo Scrapbook Cover is for you.
Big ticks from Spencil parents

After years of watching my mother flawlessly cover thousands of school books with not a bump or crinkle in sight, I eagerly approached my own kids books with excitement. Boy did my esteem take a hit. Try as I might, I was simply not That Mum With Book Contacting Magic. My kid's books looked like a topographical map of the Himalayas. When I found these type of covers it was like the clouds parted and I gained ascension into the Cool Contacting Clique - Katrina Galipo Turner