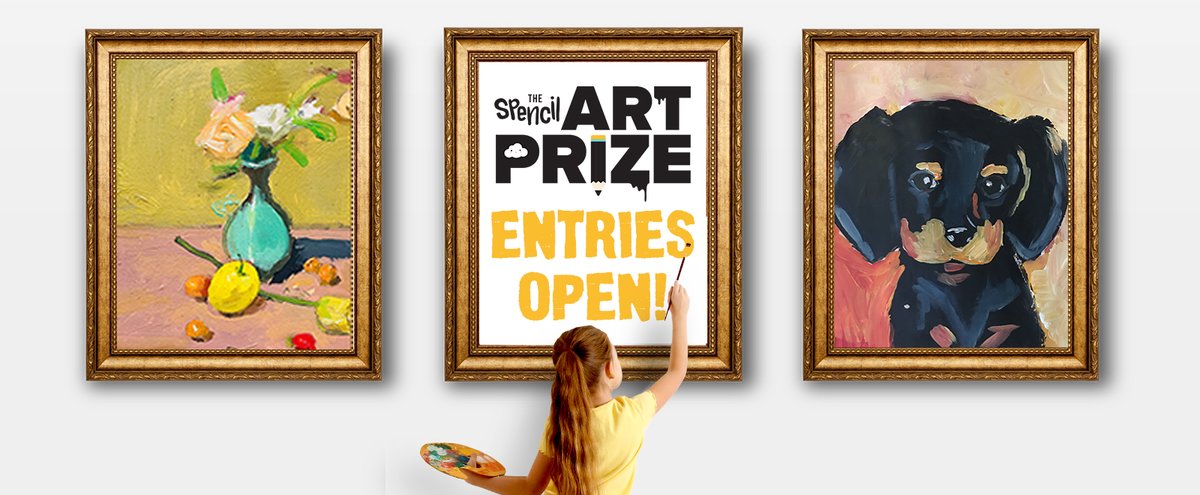 The Spencil Art Prize is a showcase of your kids' artistic flair. It is a celebration of creativity and a chance for little artists up to 13 years of age to be a part of something really special; a collaboration with our design experts to turn their gorgeous artworks into Special Edition products for them, their family and friends, and other kids to love!
Your budding little Matisses and Picassos have the opportunity to win AWESOME prizes in their age category: 8 years and under & 9-13 years.
Every entry will also be hung on display to the world in our online gallery.
After all, true creativity deserves to be shared and marvelled at and every child's piece of creative expression should be celebrated!
Carrie McCarthy is a writer, curator and Collections Registrar at Griffith University Art Museum, overseeing the second largest public art collection in Queensland. Independently, Carrie has curated contemporary art exhibitions for World Science Festival, Queensland Museum, the Queensland College of Art, TRACE Festival, and Mercy Heritage Centre. Her writing has been published in Mamamia, Vault Magazine, Huffington Post Australia, The Big Smoke, Art Almanac, Art Monthly, and QAGOMA's ArtLines, and she regularly blogs under the pen name Cultural Flanerie. An experienced public speaker, Carrie was the Arts presenter on ABC Radio Brisbane's Drive program from 2014-17.
At an early age, Ray immersed himself in European comic books, fascinated by the amazingly detailed art. He spent most of his youth copying his favourite artists hoping one day to become one himself. At the age of 17 Ray became a computer games artist and worked on a great number of projects for over 25 years including Harry Potter and Jurassic Park. After emigrating to Australia from England in 2004, decided it was the right time to follow a long ambition of becoming a fine artist working in charcoal and oil paint.
Sarah has worked in the visual arts sector for over 15 years, primarily in project coordination and public engagement roles. In her independent work she is developing and delivering engaging arts programs and resources for diverse audiences, and she is passionate about art, education and accessibility. She also works casually at Griffith University Art Museum on public programs and visitor engagement. Sarah holds two board positions and is Co-Chair of the Flying Arts board. She is also a committee member of the Australian Museums and Galleries Association (AMaGA), Queensland branch.
Can your kids imagine their artwork on gorgeous Spencil product for other kids to love? These are just some of the awesome product collaborations with last year's winners!
Last Year's Winning Entries!
Adelaide Schwarz - 8 years old
DOG
Adelaide says about her work "I love dogs and this little one is watching me". This beautiful image was inspired by her family puppy called Shadow.
Marco Ferlito - 9 years old
ROSES FOR ROSE
Marco says "This is the painting I did for my Nonna Rose. I forever love her for her support, care and always loves me as I am."